Mites, lice & other causes of scratching
If your mouse is scratching constantly it is likely they have a skin parasite, most commonly mites or lice. Other symptoms may be small scabs around their neck and behind their ears, thin patchy fur or bald spots or in the case of lice egg cases in the fur.
Mites
Mites are microscopic parasites that are thought to always be present on animals in small numbers without causing them any problems. However when the animal is stressed or run down the numbers can become to much for the immune system to cope with and cause excessive scratching which is not only very uncomfortable for the mouse but can lead to scabby, broken skin around the neck and behind the ears which can in turn become infected.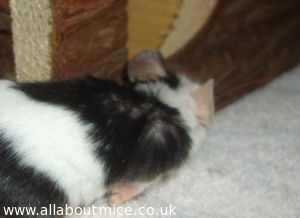 Scabs around the neck and ears are classic signs of mites.
Lice
Lice can be seen as tiny red/brown dots moving on the mouses skin. As with human lice the empty egg cases stick to the strands of hair. Again they may cause itchiness and scratching but another complication with lice is that if left untreated they can also cause anaemia with can be fatal in small animals.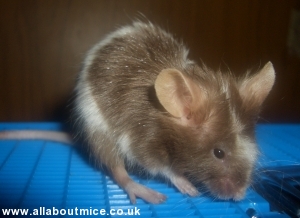 Here the empty louse egg cases can be clearly seen in the fur.
The good news is that both types of parasite are species specific (meaning they can only live on other mice so can't infect you or your other animals) and are easily treated. The treatment is a drop on containing Ivermectin which will be prescribed by your vet. You can read more about this on the mouse medicines and treatments page.
Other causes of scratching
If you have a mouse that is scratching excessively or has broken skin and you have ruled out/treated for mites or lice then it is likely to be suffering from an allergy. The difficult part is of course working out to what but the most common allergies seem to be food related, the usual culprits being nuts (in particular peanuts), sunflower seeds, too high levels of protein in the overall diet and some say wheat and diary.
Further Reading:
What's Bugging Your Rats and Mice? from the Rat & Mouse club of America (RMCA)
Ecto-Parasites from the Rat Health guide
Food Allergies from the Rat Health guide