It barely ever happens that everything runs smoothly here so when it does I like to make the most of it!! Since my last entry Lilac foster went off to pastures new as planned and just yesterday Grace moved in with Hoggle, also as planned. Gracie, given everything she's been through, was very jumpy to begin with but Hoggle was the perfect gentleman and having had a whiffle in her general direction was quite happy to let her explore and settle in without bothering her further. Before long she had calmed right down, sitting still for Hogs to have a bit of a sniff and say hello and since then things have remained completely uneventful. They're not sharing a bed as yet (they have only just met lol!

) but I have a feeling it won't be long!
I've also had a bit of a re-organisation and have built myself a unit out of a surplus flat pack wardrobe to house my mouse cages. I've dubbed it Mousie towers and I'm rather pleased with it so I thought I'd share a pic with you all.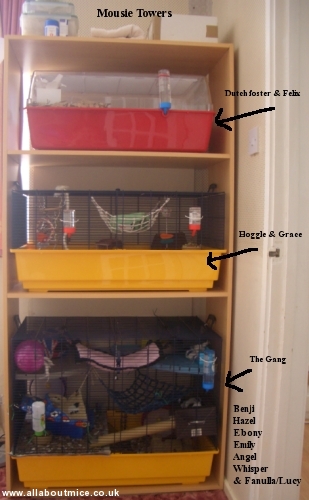 Once Dutch foster is homed Felix will rejoin the big group in the Freddy (bottom shelf) and the top shelf will be storage/space for fosters or a hospital cage. It's certainly much better than having them scattered round the living room that's for sure! Other than Mousie towers I have the rat cage over the far side of the room and the spiny tank on a unit in another corner….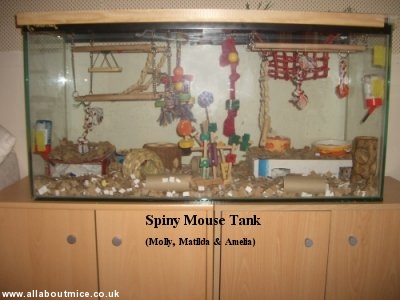 ….so all in all my living room now looks much more like a living room than a mouse house, just in time for me to decorate over the summer.