New girlies!
I brought back four little girls with me on Saturday as planned and they are absolutely adorable! The two fosters are now living with one of my neutered foster boys and are getting on great. He didn't seem quite sure what to make of them to start with, bless him but before long the three of them were bundled together asleep in a tissue box. My girl Poppy is also now living with one of the foster boys as I noticed she was spending all her time alone since Dot passed away. I decided that she might be happier with a 'fresh start' so to speak and am pleased to say that moving her from the main group seems to have perked her up no end as well as meaning another of the boys has company now.
The new foster girls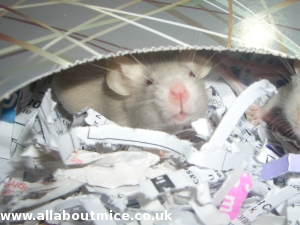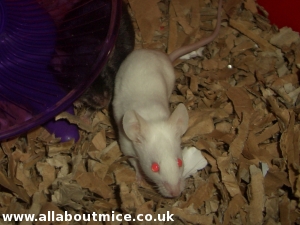 & Poppy (right) snuggled up with her new friend.

My own two girls are a bit special in that they both have strange little growths on their faces. The rescue's vet has checked them out and thankfully they are totally benign and won't affect their health so unless they get big enough to be in their way they don't even warrant removing. These girls are all from the big Welsh rescue so it is likely to be a genetic problem caused by inbreeding although the growths do look a bit like a strange lump one of my old mice Charlie had which my vet thought was a wart. It was right on the corner of his eye and so couldn't be removed but randomly after being there for the majority of his life one day it just dropped off! Hopefully it might be a similar scenario for my girls but in any event they are healthy and I think they're gorgeous so it's all good! And so without any further ado please meet Katy…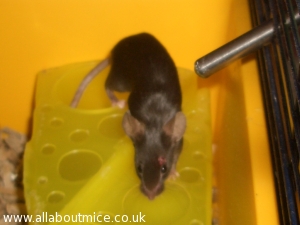 & Erica.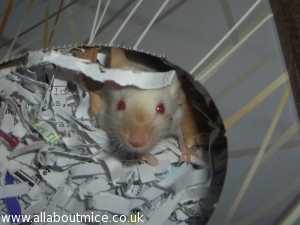 Amazingly, given how much of a stroppy knickers Jessica can be intros between my new babies and the freddy cage group have gone so smoothly that they are already living together. All in all I'm pretty pleased with things at the moment!